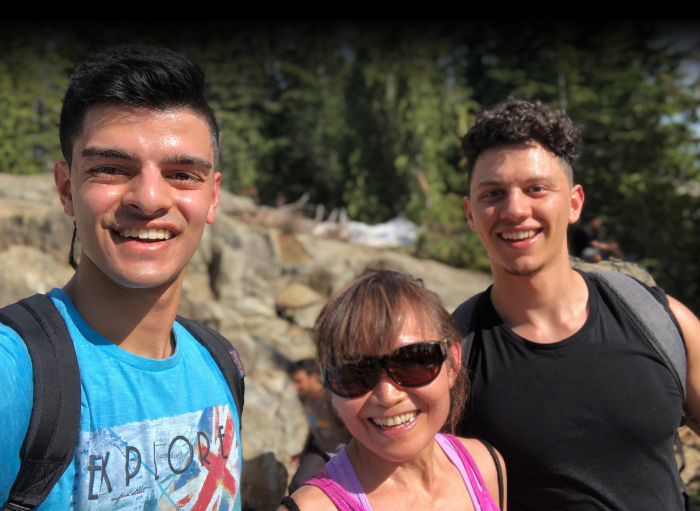 YYZ -> YTR
There is no doubt in my mind that I will be back to B.C very soon. I spent 5 days last week in Vancouver on a speaking tour. The tour included Enactus Nationals, LOI Demo day, and two elementary schools. In total only 3 days were spent speaking, so the remaining 2 were used for exploring.
I should also mention that I was with 4 of my buddies. Shout out to Jonny Hsu for letting us crash and cook in his house. Anyway, when we weren't speaking we were outside. We biked 10km around Stanley park (the forest that was used to film Twilight), took pictures at the suspension bridge, and hiked up a mountain.
The experience I want to share with you is the "Grouse Grind". Grouse is the name of the mountain that we climbed. It was a 2.5km hike at a very steep incline. With every step your calves and legs would ache and burn and you would stop to catch your breath each time you saw a landmark sticker that stated your progress.
15/40
15/40 was the landmark that I took my first break. At this point Dillon and I had significant trekked ahead of our buddies but needed a short rest to recoup. As we were sitting on a rock heaving an older looking lady passed by us at a steady pace. Seeing her swift calculated movements, step by step without hesitation prompted me to get up and start climbing again. After 5 minutes of following this lady my legs were shaking. She wasn't slowing down and showed no signs of fatigue. With a smile on my face I looked back at Dillon and said, "bro, when she stop's we'll stop." I guess she heard me because without looking back she chuckled and said "I won't stop. If I stop, I won't be able to start again"
The Iron Lady
Now I was impressed. Who was this iron lady? She must have been under 5 feet tall. She was wearing a pink tank top, black yoga pants and had a Michael Jordan string bag on her back. In her right hand was a pink contigo bottle filled with lemon water. Her hiking shoes were bigger than her and it was clear that she had hiked up this mountain before because each step appeared to be predetermined.
After tailgating her for another 5 minutes I laughed and said, "you're really not going to stop, are you?" She assured me she wouldn't stop but invited me to pass her as she thought she was going too slow. Little did she know I was out of breath just trying to keep up with her!
Karen
After making some small talk with this lady I finally asked for her name and age. Her name was Karen and she was 62 years old! She told me that she hikes up this mountain once a week during the months of May to September. She told me that she was an aerobics teacher in her youth where she got the nickname KK, Killer Karen. Step by step we climbed and kept talking.
I found it hysterical because every five minutes she would say "you can pass me if you want", absolutely clueless to my fatigue and struggle. She never looked back, not even once to see who she was talking to!
Once we passed the ¾ landmark I knew I had to take a picture. Karen could not be some mystical person that you never get to see. Here is a glimpse of what I saw on during my entire trek up the mountain.
Here is the video I took while following her
The Summit
After 50 minutes we reached the summit. We did it! We didn't stop and indeed kept up with Karen's relentless pace. Once we got to the top Dillon asked her "what motivates you" and she said she was just a very competitive person and usually climbs the mountain in 40 minutes so she wanted to challenge herself!
It was time to take a picture. I couldn't let Karen get away without being a part of this crazy moment. We took a selfie, Karen continued on her way and I was left sitting on a rock dumbfounded.
A 62-year-old lady just kicked my butt. How in the world did she do it? Maybe it had something to do with the first sentence that came out of her mouth, "I won't stop. If I stop, I won't be able to start again."
Maybe the secret to greatness and impeccable performance is consistency and momentum. Karen believed that she couldn't stop and therefore she never did. Climbing that mountain was more of a mental challenge than it was physical, and Karen's mindset allowed her to continue even after her legs were fatigued.
When you align consistency, momentum and a strong mindset, anything is possible!
Thank you, Karen, you inspired me to write this blog.