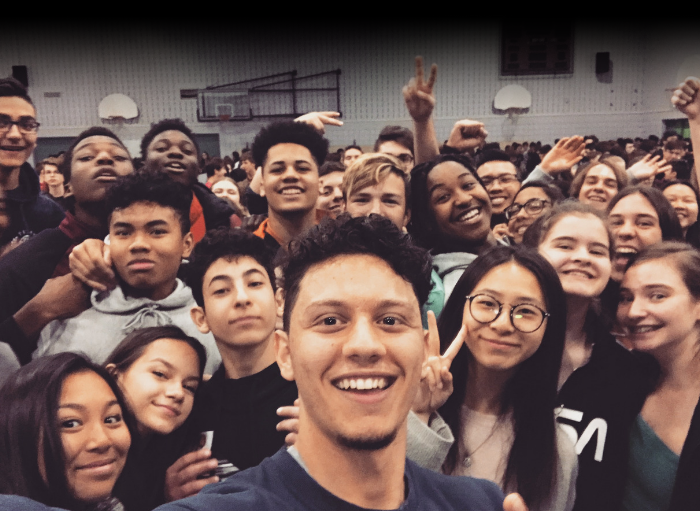 "Unfortunately….No"
Friday was  a pretty bad day, but it's ok. The whole day wasn't bad, just a few split moments that threw me off my game. I had preconceived ideas about how certain situations were going to unfold and they ultimately ended up playing out the exact opposite of what I had expected…
Just two days ago I returned home from a 5-school speaking tour in Ottawa and was left feeling on top of the world, absolutely elated. Not because I got to speak or travel, but from receiving hundreds of messages from students telling me how much my speech had impacted them. Understand me, my passion is speaking but my purpose is to change the way students think and define their abilities, and so when I receive an overwhelmingly positive response, I know I'm fulfilling my purpose.
I Chose this Life
Daily I remind myself, I chose this life. I chose to drop out of school. I chose to not go out and party. I chose the late nights and early mornings teaching myself how to build websites and edit videos. I chose to use my story and gift of speaking to inspire young people to redefine their own possibilities.
But along with this I also chose an unconventional path, one that takes long hours of work to flourish. One that favours the existing options and is opposed to the new. Being 19 years old is like a double-edged sword because although I'm one of the most relatable speakers to any student due to my age, I still have the teachers and senior administration who chose to look at me through a different lens.
Here are just a few of the messages I received after my speech at St. Paul's High School in Ottawa.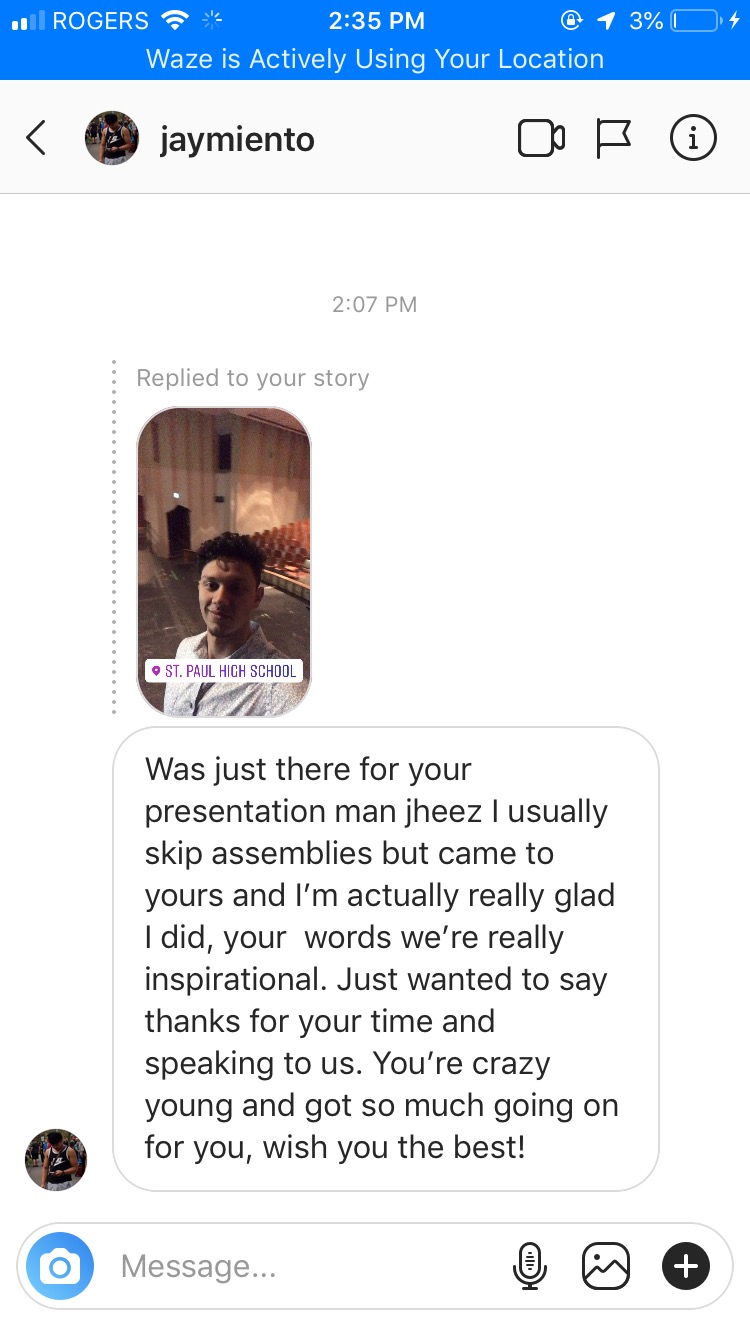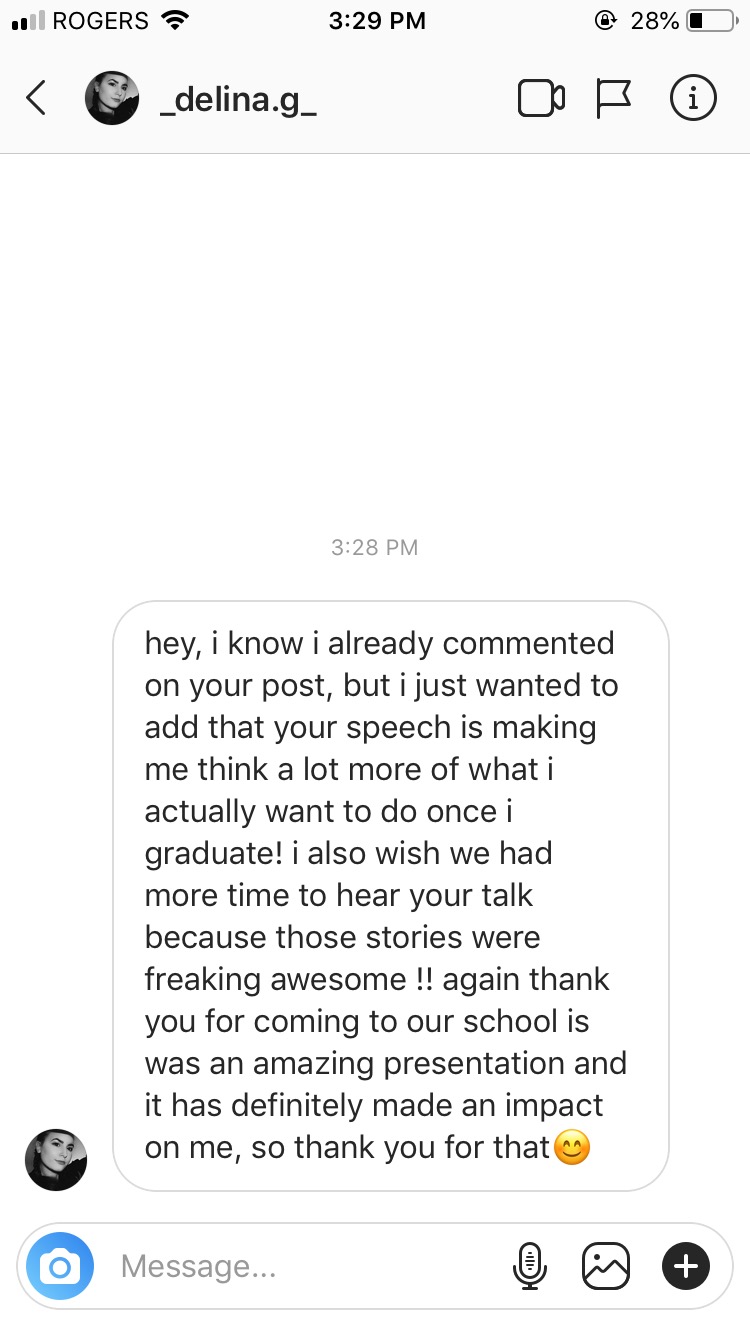 Sometimes the student's responses to the message doesn't even matter in the eyes of the administration. It's in those moments that I remind myself, I chose this life. More often than not people are not going to understand your mission, and that's ok. More often than not you will hit resistance…good you chose a path worth travelling.
Two days ago, when I was on my way back from Ottawa, I saw a quote on the wall in the washroom that read "if there are no obstacles on the path, it probably leads nowhere." It is you  face obstacles that you should remind yourself that you chose this life.
So why was Friday not so good? Over the past month I have travelled to Vancouver, Sault Ste. Marie, Timmins, Kingston, Peterborough and Ottawa to deliver presentations, but to this day I have only ever delivered one presentation for a school in my own city, Toronto. Every time I called a school in the Toronto District School Board (TDSB) I always received the same response, "sorry this presentation needs to be board approved."
"Unfortunately….No"
So, I went to the board 3 months ago and after submitting an application along with dozens of follow up emails I finally got a phone call today from someone who ultimately said the application was denied and when I asked if I could still speak at any schools in the TDSB their response was "unfortunately…no."
There are nearly 600 schools in the TDSB, serving 250 000 students who I could have impacted to some degree, but as of right now won't get that chance. On top of this unfortunate news I also heard back from an event organizer who said that they had selected another speaker for their event. It was an event that I had been working on securing for over 2 months. Coming off such a great week to receive both of these unexpected realities was a little bit rough. It shook me this afternoon.
I wanted to share this with you because it really reminded me that anything worth having in life is always accompanied with adversity and obstacles. Often times your adversity will become the launch pad for your next success, but only if you keep going.
"If there are no obstacles on the path, it probably leads nowhere."
#smallconsistentactions